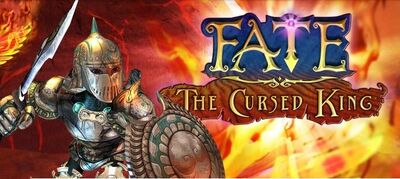 Welcome to the Fate: The Cursed King Wiki
Edit
This wiki is for the new Fate game Fate: The Cursed King. This wiki will help all players expand their knowledge of the game and any members are free to help by adding new pages or modifying pages with incorrect information!
The bestselling FATE series returns with a brand new chapter! As the hero of FATE: The Cursed King, play through an exotic new realm full of surprises. Fight your way through vast and varied dungeons on your quest to break the terrible curse that threatens your home. Customize your skills completely between magic and melee, and recruit AI-controlled allies to fight beside you! Brand new to the game is a party system, Facebook features, and plenty of weapons, spells, and armor. Will you break the curse, or will the city of Ekbatan be forever doomed?
Ad blocker interference detected!
Wikia is a free-to-use site that makes money from advertising. We have a modified experience for viewers using ad blockers

Wikia is not accessible if you've made further modifications. Remove the custom ad blocker rule(s) and the page will load as expected.